End of Support Schedule
Below is the planned software end of support schedule. This indicates the dates that Mechanical Simulation will stop providing technical support for certain software and Operating Systems. VehicleSim products (BikeSim, CarSim, SuspensionSim and TruckSim) may continue to function with third-party software after the End of Support date, but Mechanical Simulation will no longer offer technical support or guarantee its functionality.
VehicleSim Software

BikeSim 2 
December 2019
CarSim 7 
December 2019
SuspensionSim 5 
December 2019
TruckSim 7
December 2019
CarSim 8
December 2021
TruckSim 8
December 2021
BikeSim 3
December 2021
SuspensionSim 8
December 2021
BikeSim 9
December 2022
CarSim 9
December 2022
SuspensionSim 9
December 2022
TruckSim 9
December 2022
Operating Systems

Windows 7
June 2020
Ubuntu 14.04
December 2020
Windows 8
December 2021
Ubuntu 16.04
December 2021
OpenSUSE 42.3
December 2021
*All 32-Bit Windows 
December 2022
Third-Party Products

MATLAB/Simulink 2012a 
December 2019
MATLAB/Simulink 2012b 
June 2020
ADAS-RP
December 2020
MF-Tyre/Swift 6.2 and 7.3
December 2020
MATLAB/Simulink 2013a 
December 2020
MATLAB/Simulink 2013b 
June 2021
MATLAB/Simulink 2014a 
December 2021
MATLAB/Simulink 2014b 
June 2022
MATLAB/Simulink 2015a 
December 2022
*All 32-Bit Software
December 2022
MATLAB/Simulink 2015b 
June 2023
*Mechanical Simulation is planning to stop shipping 32-bit versions of our solvers. This means that users will not be able to use 32-bit versions of Windows, or 32-bit versions of third-party software like Simulink.

Mechanical Simulation is also planning to discontinue support for older versions of our software. This means we will no longer make these versions available for download and will no longer provide technical support for these versions.
What Is a Key ID?
Your Key ID is used by Mechanical Simulation to determine your license type and maintenance status. You will be asked for the Key ID when logging into the Users section of the website or when requesting technical support.
Dongle Keys
Your KEY ID is printed on the dongle.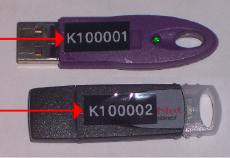 All Users
From the browser (carsim.exe, bikesim.exe, or trucksim.exe) use the Tools->License Settings menu item to bring up a window showing your Key ID and other information.