Technical Support

As a result of the coronavirus pandemic, everyone is having to adjust their work environments and routines. Many of our users have had to start working from home. This change in routine has led to many not having access to a license.

As part of our continued commitment to supporting our customers, upon request we will extend the 30-day trial we have previously provided to in-maintenance users.

Anyone experiencing unexplained license problems or users who would like to extend their temporary license should submit a technical support request using the Mechanical Simulation Support Center: Submit a tech support ticket

A Mechanical Simulation account is required to submit a ticket. If you do not already have one, you must register for one: Register for a Mechanical Simulation account 
What Is a Key ID?
Your Key ID is used by Mechanical Simulation to determine your license type and maintenance status. You will be asked for the Key ID when logging into the Users section of the website or when requesting technical support.
Dongle Keys
Your KEY ID is printed on the dongle.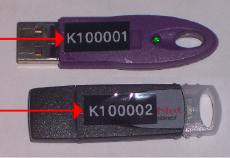 All Users
From the browser (carsim.exe, bikesim.exe, or trucksim.exe) use the Tools->License Settings menu item to bring up a window showing your Key ID and other information.