Technical Support

As a result of the coronavirus pandemic, everyone is having to adjust their work environments and routines. Many of our users have had to start working from home. This change in routine has led to many encountering license issues.
In order to support our users, while working from home, we are offering VehicleSim (CarSim, TruckSim, BikeSim and SuspensionSim) trial licenses free of charge, so you can remain productive.
If you are in need of a temporary license, please contact your salesperson or submit a technical support request.
One particular issue facing users is the "Cannot checkout an uncounted license within a Windows Terminal Services guest session" error message.
Some users are attempting to run by connecting to a computer via Remote Desktop Protocol (RDP).
FLEXlm doesn't permit use of RDP with a dongle or single station node lock license. To use RDP the remote computer must have access to a network license.
This problem is commonly occurring when users are attempting to remotely access HIL systems which don't have access to a network license.
In some cases, even when the users do have access to a network license, they are getting time-out errors because their connection is too slow or because their internet connection is unstable. We expect there is nothing we can do about some of the time-out errors.
We can offer, upon request, a 30-day trial network license. This solution may require the assistance of your IT staff. We will help you through these problems as best we can.
Anyone experiencing unexplained license problems should submit a technical support request using the Mechanical Simulation Support Center: Submit a tech support ticket

A Mechanical Simulation account is required to submit a ticket. If you do not already have one, you must register for one: Register for a Mechanical Simulation account
What Is a Key ID?
Your Key ID is used by Mechanical Simulation to determine your license type and maintenance status. You will be asked for the Key ID when logging into the Users section of the website or when requesting technical support.
Dongle Keys
Your KEY ID is printed on the dongle.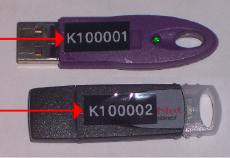 All Users
From the browser (carsim.exe, bikesim.exe, or trucksim.exe) use the Tools->License Settings menu item to bring up a window showing your Key ID and other information.