2019 VehicleSim User Conference Agenda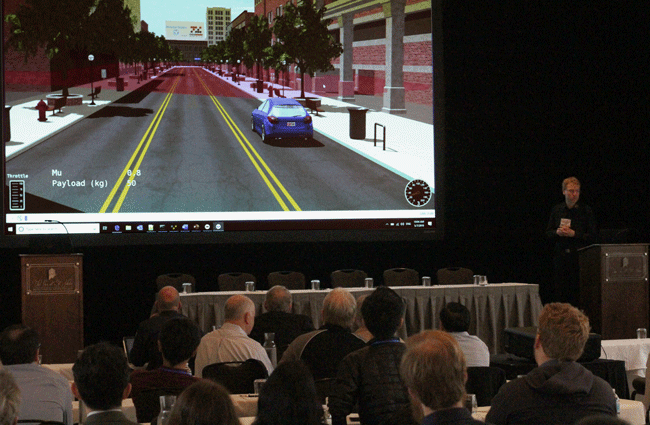 Day 1: Tuesday, May 7: VehicleSim User Conference
The Inn at St. John's
44045 Five Mile Road
Plymouth MI 48170 USA

Our keynote presentation will be delivered by Matthew Cragun, Product Manager at NVIDIA.
Matt is a product manager for DRIVE Constellation in the Autonomous Vehicles group at NVIDIA. Matt has 10 years experience in the automotive industry. Prior to NVIDIA, Matt worked for an engineering consulting group focused on automotive OEMs and racing. He holds degrees from MIT in mechanical engineering and business.
8:00
Breakfast & Registration
8:45
Thomas D. Gillespie, Ph.D., Mechanical Simulation,
Welcome
9:00
Keynote: Matthew Cragun, NVIDIA,
The Road to Autonomous Vehicle Validation
9:30
Allan Segal, Microsoft,
Scaling your Simulation Workload in the Microsoft Azure Cloud
10:00
Stefan Kasek, TraceTronic,
ECU-TEST makes CarSim run even better
10:30
Networking Break
10:45
Adit Joshi, Ford Motor Company,
Hardware-in-the-Loop (HIL) Implementation and Validation of SAE Level 2 Automated Vehicle with Subsystem Fault Tolerant Fallback Performance for Takeover Scenarios
11:15
David Kline, Ph.D., Mechanical Simulation,
New Features: Stability Control
11:30
Yukio Watanabe, Ph.D., Mechanical Simulation,
New Features: Powertrain/Hybrid
11:45
Keith Gingras, Mechanical Simulation,
VS SceneBuilder: New Features and OpenDRIVE
12:00
Lunch
1:00
Mike Sayers, Ph.D., Mechanical Simulation, and Jeremy Miller, Mechanical Simulation,
What's New for VehicleSim
2:00
Celite Milbrandt, monoDrive LLC,
Utilizing High Fidelity Simulation for ADAS/AV Performance Characterization
2:30
David Hall, Mechanical Simulation,
Development for Autonomous Vehicles
3:00
Networking Break
3:15
Jeff Groom, atlatec GmbH,
High-Fidelity Road and Scenario Database for Virtual ADAS Testing
3:45
Heiko Wenczel, Epic Games,
Synergy opportunities: Using a game engine for automotive simulation applications
4:15
Terry Rhoades, P.E., Mechanical Simulation,
Closing Remarks
4:20
Reception & Networking
Day 2: Wednesday, May 8: Hands-on Training & Special Topic Seminar
The Inn at St. John's
44045 Five Mile Road
Plymouth MI 48170 USA
Mechanical Simulation will conduct two separate full-day (9am-4pm) training sessions with CarSim 2019:
Track 1:

Room:
Kings

Hands-on Use With CarSim

This session will be led by Ben Duprey of Mechanical Simulation.

This hands-on session will cover CarSim fundamentals and new features.

Track 2:

Room:
Samuel

Autonomous Vehicle Development Using CarSim

This session will be led by David Hall of Mechanical Simulation.

This seminar is on special topics related to autonomous vehicle development using CarSim, including steering, sensor positioning, multiple driver controls and moving objects etc.